Sam Que – Saxophonist
Sam Que (pronounced /kay/) is a regional saxophonist from Elkhart, Indiana.  He began his journey at the age of 7 while playing drums at his parent's church. He was soon booted from the throne by an older and more experienced player, forcing him to find a new instrument.  During his elementary school's band workshop, the saxophone found its way into his hands and curiosity.
'No-holds-barred' is certainly one way to describe his approach to the saxophone.  Que's acrobatic yet musical playing style, has earned him a secured spot in the area's music scene. His sonic signature is a staple of the energetic Spanish Rock band, Lalo Cura, After Ours and James Neary and The Bevy Blue.  The heavy influences by true commanders of the saxophone like James Carter, Joshua Carter and Michael Brecker  run deep in his sound and approach.  His playing can be heard evolving  into many different shapes and hues as he tries to remind the listener of music's emotional venture.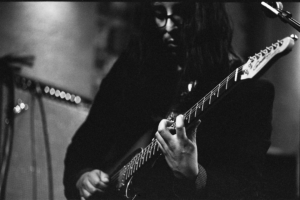 Rafael Chávez y Moreno
For more than ten years Rafael Chávez y Moreno has been an active musician in the Michiana area. A Goshen College graduate (Class of '09), Chávez y Moreno has been part of various music projects that have been recognized at a national level. From Rock to Jazz to Latin, Chávez y Moreno has been a part of various groups that have traveled across the United States, including Kansas Bible Company and Lalo Cura. Lalo Cura has been featured in NPR's Alt. Latino radio show twice and perform regularly in the region. The various musical projects in which Chávez y Moreno has participated have been featured in various music festivals, including Bonnaroo Music Festival, The Elkhart Jazz Festival, The Austin City Limits Festival and Pilsen Fest in Chicago, among others. Currently, Rafael resides in Goshen, IN and works as a Spanish teacher in Goshen High School.
Khalin Diggins
Khalin Diggins is a 22 year-old bass player from South Bend, IN that began his journey in the church alongside his older brother Khamron Diggins. He plays across the Michiana area with the Smash Kings and other various acts.  
Khamron Diggins
Khamron Diggins is a 25 year old drummer from South Bend, Indiana. He began playing drums at the age of 2. He grew up playing in church and also plays around the Michiana area alongside his brother Khalin Diggins.  He has played with notable names such as R&B soul artist Micki Miller and hip-hop artist,  Heyzeus.
Brendyn Cane 
Brendyn Cane was born and raised in South Bend Indiana and started playing drums at the age of 3 at church. Like many church musicians, he also learned to play other instruments like organ and keyboard. Cane grew up with the Diggins brothers in South Bend and formed a strong musical bond that can be heard whenever they play together.