Jim Syoen — Tuba, Leader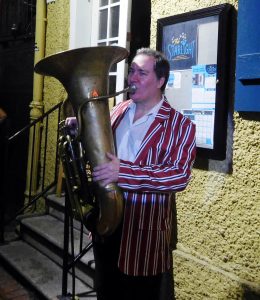 Jim was an award winning television personality in Florida for several years before moving to New Orleans to co-lead The Assunto Dukes.  Legend says that Jim's father Fran marched him around the house as a colic baby to The Original Dukes of Dixieland recordings.  As a "front man", he is immensely proud to lead the way on stage for this group of outstanding and enthusiastic New Orleans musicians.
Lexie Assunto — Vocals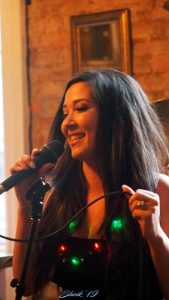 Lexie is the granddaughter of Frank Assunto, and was taught to sing this style of music as a child by her Great Aunt Betty Owens, who performed and recorded with The Dukes of Dixieland as "The Duchess." Not only does Lexie sing all of her aunt's songs, but she sings them in the SAME KEY!  Her lineage is obvious from the moment she takes the stage, as she is a true natural, and the "shining star" of the band.
Jim Thornton — Trumpet, Vocals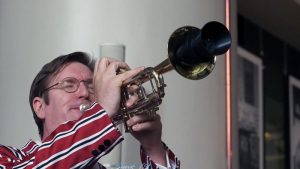 Jim Thornton's warm tone and great sense of melody is reminiscent of Frank Assunto and so many of the great horn men of that era.  Somehow, between practicing his scales, playing gigs, and honing his fine vocal skills, Jim managed to attend (and graduate) law school, and even found time to write a nationally published book, "New Orleans Trumpet-A Down Home Conservatory Method."  
Scott Kyser — Piano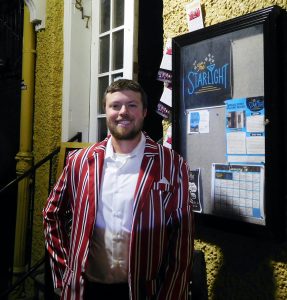 Although the youngest member of the band, Scott has mastered all styles of music.  When not performing with The Assunto Dukes, he can often be seen playing solo piano at some of New Orleans finest restaurants.  Scott's enthusiasm and dedication to the music make him an integral member of The Assunto Dukes.
Alex Holmes — Trombone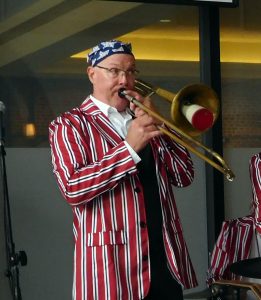 Freddie Assunto was a big influence on Alex as a youngster, and a big reason why he selected the trombone.  His spirited playing and equally spirited sense of humor always make him an audience favorite, and his rendition of "Slide Frog Slide" never fails to bring a huge ovation.
Marc Joseph — Drums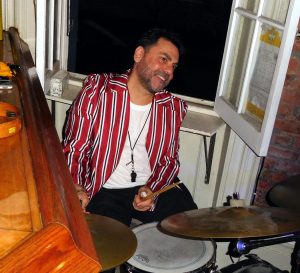 After spending some time in CA, Marc decided his home town of New Orleans was where the REAL music was at.  He has the beat in his blood.  He is also a composer, devoted teacher, and can often be seen fronting brass bands around town.