Jazz Expressions – Creativity in Process
The Midwest Museum of American Art in collaboration with The Elkhart Jazz Festival is
pleased to announce Jazz Expressions – Creativity in Process. June 22 – June 24, 2018. This all-media
opportunity will take place during the 2018 Elkhart Jazz Festival and is open to artists 18 years and older.
15 – 20 pieces will be selected from the 2018 artists and shown in the 2019 Jazz Experience Spotlight
exhibit during the 2019 festival at the Midwest Museum. This event provides a unique opportunity for
artists of Michiana to gain exposure and create in a festival setting.
Jazz Expressions – Creativity in Process is open to artists 18 years and older. Each entrant may submit up to 3 works which must be original in concept and execution and created during the 2018 Elkhart Jazz Festival. Studio Finished work is acceptable.
Upon registration and electronic submission of sample work, selected artists will receive special discount opportunities giving greater access to the festival venues. Only artists who have registered will be eligible to participate in the final selection process for the Jazz Experience Spotlight exhibit
AWARDS SELECTED BY PATRONS OF THE ELKHART JAZZ FESTIVAL
1st and 2nd place PURCHASE AWARDS selected by Jazz Patron vote at the 2019 Jazz Festival:
1 st place $500.00
2nd Place $250.00
Purchase Awards become the property of The Lerner Theatre Public Art Collection.
RULES OF ELIGIBILITY FOR THE 2018 – 2019 Jazz Expressions – Creativity in Process
ENTRY FEE: • 0 entry fee
SUBMISSIONS OF SAMPLE WORKS DUE: June 15, 2018;
Works created during 2018 are eligible for submission by February 1, 2019
WORKS SELECTED FOR exhibit: All works must be hand delivered June 11, 2019 through June 14, 2019
during regular museum hours. Tuesday through Friday, 10 AM to 4:00 PM.
SIZE LIMITATIONS: • 2-D works: Length or width may not exceed 24 inches • works of art may not exceed
30 lbs. in weight.
FRAMING & PRESENTATION: • All entries must be prepared for installation. Two-dimensional work
must be framed and wired for hanging. Three-dimensional work should be self-supporting or be able
to be placed on a pedestal. No works will be accepted that require the artist present for installation.
PICK-UP of Artworks: exhibited work – must be picked-up June 24, 2019 during regular museum
hours. Please contact museum staff at 574-293-6660 if special arrangements are required.
All work not claimed by June 30, 2019, will automatically be considered the property Elkhart Jazz Festival
to dispose of in any way it sees fit including collaborative fundraising sales with Midwest Museum of
American Art.
SALE OF WORK: Unless otherwise indicated by the artist, all work is for sale. A commission of 25%
on work sold is payable to the Midwest Museum.
JUDGES: Submissions approved by committee. Award winning works selected by popular vote process.
SPECIAL AWARDS RECEPTION
Each accepted artist plus one guest are invited to attend the awards reception on Sunday, June 23, at 2:00 PM.
Artists must show their notification cards at the front desk.
All artists submitting to "JAZZ Expressions" are admitted free of charge throughout the duration of the Spotlight exhibit to the Midwest Museum beginning June 18-21, 2019. The standard admission fees apply to all guests.
LIMITATION OF LIABILITY: The greatest care will be taken in the handling of all entries; however, as a condition of entry each artist releases and forever discharges the Midwest Museum of American Art (MMAA) and its employees, agents, officers, trustees and volunteers from any and all liability whatsoever, including the MMAA's own negligence, for any and all damages, losses to any works of art entered in JAZZ Expressions – Creativity in Process and the spotlight exhibit, "Jazz Experience" including but not limited to any claims, demands, actions, causes of action, damages, costs, expenses and attorneys' fees.
REGULAR MUSEUM HOURS: • Tues.-Fri., 10:00AM – 4:00PM or • Sat. & Sun., 1:00PM-4:00PM.
(Eastern Standard Time) • Museum Closed Mondays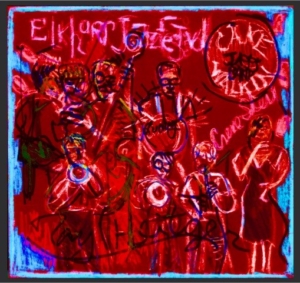 All on Board
By Crème Sheri
" I was lovin on the sound and unity of the musicians in THE CAKE WALKIN JASS BAND.  I saved my coveted red sueded board to draw on till I saw and heard this band. "Bam" they kept upping  the ante musically together, and the crowd went wild. This triumphant effect just forces the picture to appear, it's a magical confluence ."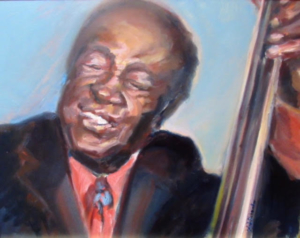 Milt Hinton (1990)
by Maxine Schacker (b.1940- )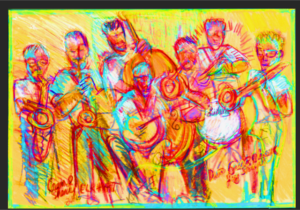 THE ECSTATIC NOTION OF HEARING, SEEING, AND BEING SURROUNDED BY JOYOUS MUSIC
By Crème Sheri
" My drawing of David Greers Jazz Stompers shows the ecstatic notion of hearing, seeing, and being surrounded by joyous music. I'm moved to constantly lay down the scene as its happening" -Creme Sheri
Registration
Make sure you fully read the rules and information!
Do You Have Your Ticket Yet?